Snowshoeing on Top of the World at Sunshine Village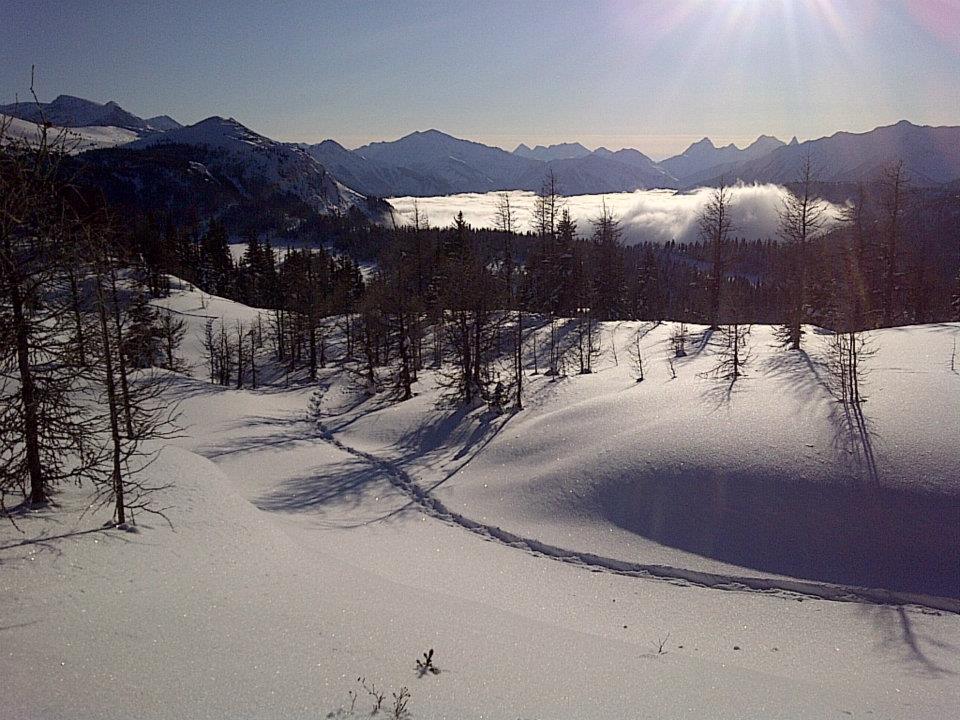 Duration: 4 Hours (approx.)
Product code: PNYFLN
True Canadian Winter Adventure!
Experience the premier guided snowshoe adventure in Canada at world famous Sunshine Village Ski Resort where the Gondola and a chairlift ride takes you straight to the land above the tree line!

Put your snowshoes on and walk with us into a white powder paradise where there are no trails and it's simply miles and miles of powdery wilderness in front of you. You'll access the beautiful winter back-country with one of our professional guides the way the Rockies are meant to be experienced - as a mix of fun, challenge, and learning, combined with the simple enjoyment of being outside in nature. During out trip we'll stop for a hot cocoa and cookies as we take in the beautiful Rocky Mountains.

Joining this trip means being prepared for unusual challenges: Days may be beautiful with sun sparkling off of fresh snow or they may be very snowy with near whiteout conditions. On the beautiful days you'll finish with memories of a sea of mountains in all directions. On days when the weather is "not so good" as we like to say, you'll head home with the sense of exhilaration and accomplishment that comes from a real experience - a real mountain winter day!
Cost
$95 per person plus tax (no child price available)
Includes
Professional hiking guide, transportation from Banff, Sunshine Village gondola and chairlift ticket, snowshoes, trekking poles, hot chocolate & snacks.
Days of Operation
Our scheduled trips are available daily from November 16, 2018 - April 14, 2019
Private bookings are available 7 days a week
A minimum of 4 people are required in order to confirm the trip
Trip Departures
**If you are not at your pickup location on time, the guide will leave without you and you will not be refunded. **
12:00 PM: 12:35pm: Banff Pickups
1:00 PM: Meeting at Sunshine Village on top of stairs in front of Creekside Building
1:15 PM: Ride the Gondola and Standish chairlift at Sunshine Village
1:40 PM: Amazing deep powder snowshoing surrounded by spectacular scenery
4:00 PM: Head back down on the Gondola to the base
4:15 PM: Return to Banff
Difficulty Level
Moderate to strenuous
Not suitable for children under 12 years old
Dress Requirement
Joining this trip means being prepared for any kind of weather. High alpine weather can be extreme and may be completely different than in town weather.
You MUST have winter boots or hiking boots, winter coat and pants, warm hat and warm gloves. Ski goggles recommended.
**If you are not properly prepared for winter conditions as described you will be turned back and your payment will not be refunded. **