Snowcat Snowshoe Adventure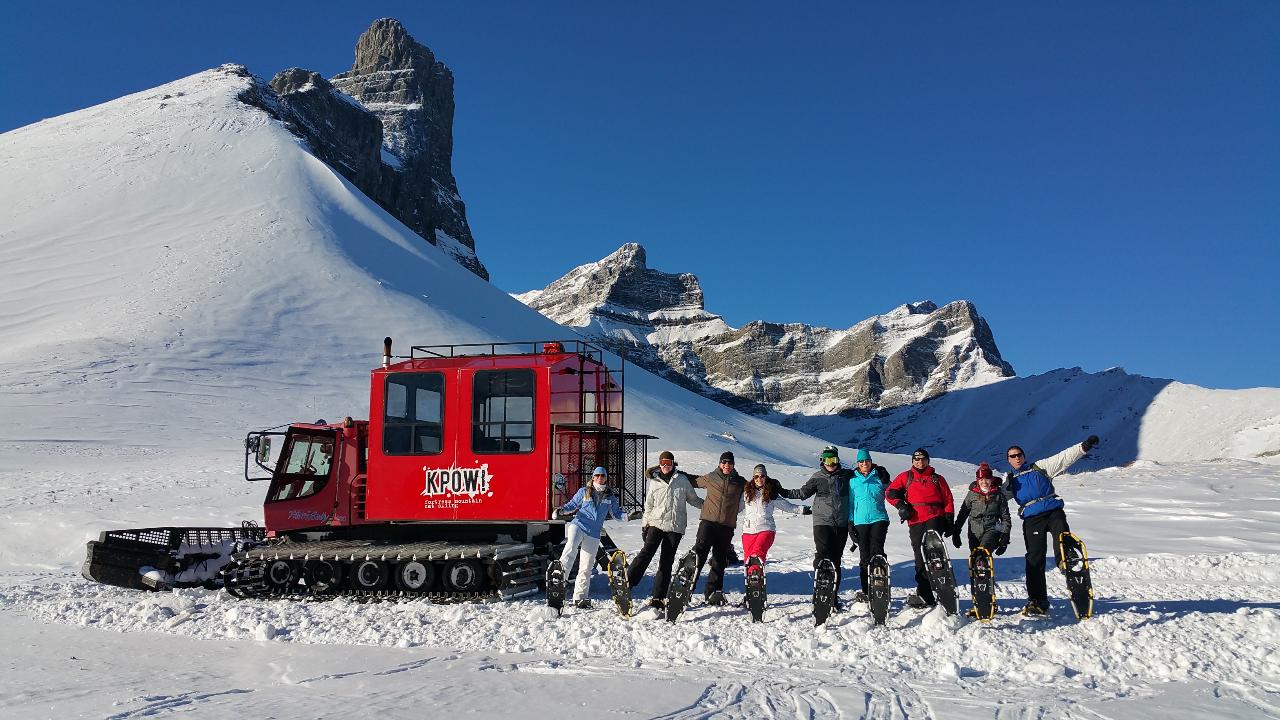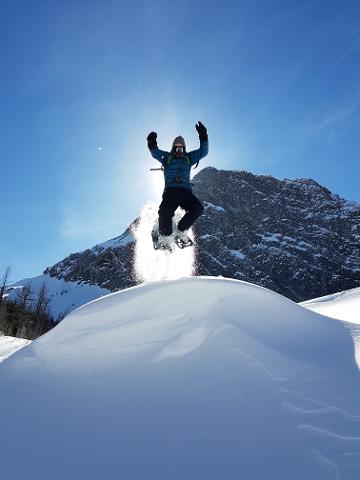 Duration: 8 Hours (approx.)
Product code: P0XGPC
You've never tried anything like this before! Go deep with us at Fortress Mountain this winter where our snowcat lift offers exclusive access to hidden terrain made famous in Hollywood blockbusters "The Revenant", "inception" and "The Bourne Legacy". Snowshoe through surreal wintery landscapes, towering peaks and pristine powder snow. Hot Chocolate & fresh-baked cookies included.
Located only 1 hour from Calgary city limits, ideal for active individuals with previous hiking or snowshoeing experience.
Cost
$169 per person plus GST (no child price available)
Transportation from Banff, Canmore, Stoney Nakoda Casino, or Delta Lodge at Kananaskis included!
MINIMUM OF 4 PEOPLE REQUIRED TO RUN THE TRIP
Includes
Professional 20 minute return snowcat lift, hiking guide, transportation up and down the restricted access Fortress Mountain Road, snowshoes, trekking poles, hot chocolate & cookies.
Days of Operation
This tour is run on Saturdays and Sundays starting December 15th and running until March 31st.
Private group bookings can be made in mid-November until May and can be scheduled for any day of the week. Please Contact Us for more information.

Trip Duration
Approx. 7.5 hours round tip from Banff. Approx. 6.5 hours round trip from Canmore. Approx. 5 hour round trip from the bottom of Fortress Mountain Road.
**As this is a longer trip, it is reccommended to bring along some snacks.
Trip Departures
**If you are not at your pickup location on time, the guide will leave without you and you will not be refunded. **
8:00 AM: Banff Pickups
8:30 AM: Canmore Pickups
9:00 AM: Stoney Nakoda Resort Pickups -If you're driving from Calgary you can park at the resort and our guide will drive the rest of the way.
9:20 AM: Kananaskis Mountain Lodge Pickups
10:00AM: Snowcat lift to deep backcountry
10:30 - 1:30PM: Fantastic snowshoeing!
1:30PM: Return Snowcat lift to base
2:30PM: Return to Kananaskis Mountain Lodge
2:50PM: Return to Stoney Nakoda Resort
3:30PM/3:50PM: Return to Canmore/Banff
Difficulty Level
Moderate to strenuous
Not suitable for children under 12 years old
Dress Requirement
Please dress for full winter conditions. You MUST have winter boots or waterproof hiking boots, winter coat/jacket and pants, warm hat and warm gloves. Ski goggles are strongly recommended.
**If you are not properly prepared for winter conditions as described above you will be turned back and your payment will not be refunded. If you have any questions about dress please call us! **
Directions from Calgary:
Fortress Mountain is just one hour and fifteen minutes from the western edge of Calgary. Travel west on the Trans Canada Highway (#1), then take the Highway 40 exit at the Stoney Nakoda Casino. Please park at the Stoney Nakoada Resort. The guide will meet you in the lobby and drive you the remainder of the way to Fortress Mountain which is approximately 45km south of the resort.
Press
Check out our Fortress Mountain guided snowshoe adventure story covered by Andrew Penner in the Calgary Herald on March 8th, 2014!
Did you know?
Fortress Mountain has been the film location for many Hollywood films including:
The Revenent
Inception (Hospital Scene)
The Bourne Legacy
...and many more!